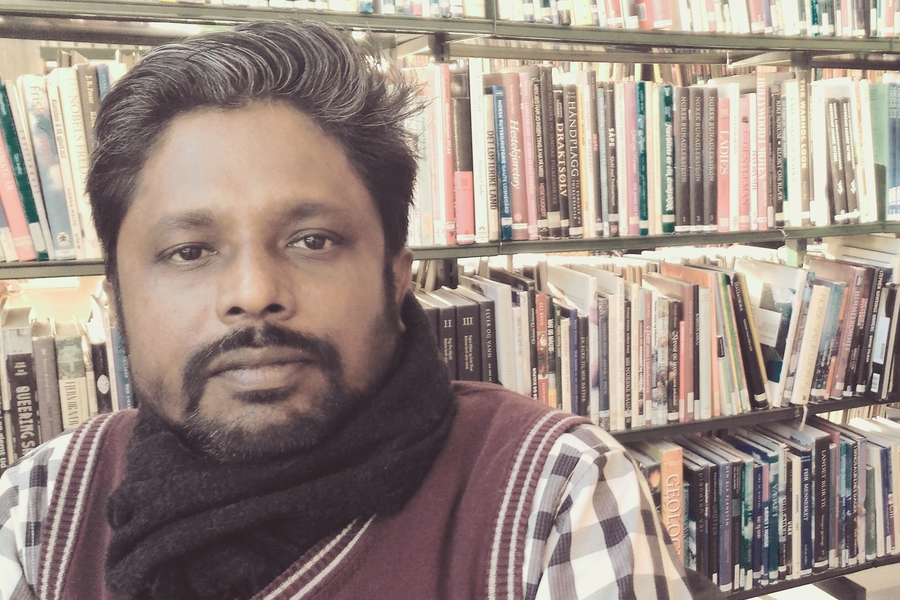 In 1990, Ahmedur Rashid Chowdhury, known as 'Tutul', started publishing and editing the magazine Shuddhashar (meaning 'Pure Voice'). The magazine quickly became a platform for young, unconventional writers in Bangladesh.
In February 2004, Chowdhury opened his publishing house in Dhaka under the same name, primarily printing works by open-minded, progressive Bangladeshi writers. Publications included Obishwaser (Philosophy of non-belief) written by Raihan Abir and Avijit Roy, first published in 2011, and Parthiba (Nothing is Divine), a collection of articles on secularism and rationalism written by Ananta Bijoy Dash and Shoikot Chawdhury, in 2011. These and other books published by Shuddhashar are condemned as blasphemous by Islamic extremists in Bangladesh. But in 2013 the Shuddhashar Publishing House won the Shaheed Munir Chowdhury Award for publishing the highest number of bestsellers in Bangladesh.
Chowdhury is also an author, having written short stories and poetry, some of which can be read here. His collection of poetry Nil Bishe Sish Kate Thot (Whistling Through Blue Poison) was published in 1995 by the Agami Prokashoni Publishing House, Dhaka. He has also contributed to a writers' blog community.
Chowdhury is also an advisor on magazine and book editing, as well as a consultant for organizations that work in the making and printing of educational materials.
Since 2013, Bangladesh has seen an escalation of anti-secular violence, which the state has failed to address properly, as well as an increase in attacks on freedom of expression. Last year, 2015, saw the murders of four distinguished bloggers – Avijit Roy, Washiqur Rahman, Ananta Bijoy Das and Niloy Chakrabarti – three of whom were close friends and associates of Chowdhury – as well as that of his fellow publisher Faisal Arefin Deepan.
On 26 February 2015, the blogger Avijit Roy and his wife Bonya Ahmed were attacked in the street, shortly after attending the Shuddhashar book publishing ceremony, at Dhaka's annual Ekushey Book Fair. Ahmed survived the attack, but Roy died shortly afterwards.
Chowdhury was also participating in the book fair that week, showcasing his most recent publications. On the day of Avijit Roy's murder he received the first death threat via his Facebook account. He reports that his picture and that of the Shuddhashar offices were posted online, with the message that he would be killed and that the offices of Shuddhashar would be torched for publishing works by the 'atheist writers'.
Chowdhury filed a case before the Mohammadpur Thana, a section of the Dhaka Metropolitan Police. However, he was only advised 'to be careful and not to move around too much' and told that Bangladesh is not a suitable place to publish the sort of books he prints. He was given no protection. After reporting the threats to the police, he began receiving death threats from unknown callers on his mobile phone, and was forced to change his number. His wife – a writer and blogger closely linked to Shuddhashar – also began to receive telephone death threats. As a result, Chowdhury became extremely concerned for the safety of his wife and their two young daughters.
According to Chowdhury, on 26 August 2015 two unknown individuals went to the offices of his publishing house, asking for information about the office and details of other people who visit Shuddhashar. Chowdhury's assistant was alone in the office at the time, and the men reportedly left without identifying themselves. At that time the office was receiving two or three suspicious phone calls per week.
Two months later, on 31 October 2015, a group of men barged into Shuddhashar's Dhaka office. Witnesses reported that one of the assailants had initially claimed to want to buy a book, but once inside declared 'We're here to kill Tutul.' They ferociously attacked Chowdhury and two other writers with machetes and guns, leaving Chowdhury in a critical condition, and locked the wounded men inside the building from the outside. Police had to break the lock to enter and rescue the men, before transporting them to hospital.
The same day, the offices of the Jagriti Publishing House, which had also published work by Avijit Roy, was attacked and the publisher Faisal Arefin Dipon was killed. Chowdhury has since confirmed that staff at both Shuddhashar and Jagriti were preparing for the 2016 Ekushey Book Fair at the time of the apparently coordinated attacks.
Less than a week after the brutal attack and while still in hospital, Chowdhury defiantly took to his computer, writing:
"My fingers got to touch the keyboard again. It feels the joy of shaking hands with friends. I am, I was and I will be in the fight for freethinking. Stay with me, Bangladesh."
Despite his inability to move and work freely, Chowdhury is bravely attempting to continue his work as a publisher: Shuddashar participated in this year's Ekushey Book Fair in spite of last year's brutal attacks on author Avijit Roy, and Chowdhury will also participate in the freedom to publish panel at this year's International Publishers Congress, on 10 April, in London.
IPA note: this profile was largely provided by English PEN, one of several organizations that nominated Chodhury for this year's Freedom to Publish Prize.