Chinese publisher, poet and essayist, Bei Ling, who in 1993 founded Tendency, an exile literary journal published in Chinese until 2000, is one of five finalists for the 2016 IPA Freedom to Publish Prize.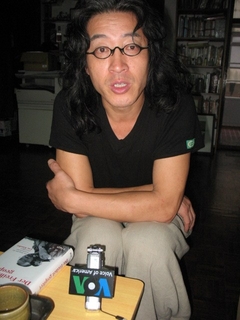 In 1978, while studying at the Beijing College of Economics, Bei Ling participated in the Beijing Shi Dan Democracy Wall movement, becoming a prominent member of Beijing's literary underground. In 1989, he was dismissed from his teaching job at Shenzhen University, in New York, for co-authoring with 2010 Nobel Peace Prize winner, Liu Xiaobo, and other Chinese exiled intellectuals an article titled Suggestions for Reform in response to the Tiananmen Square massacre. Soon afterwards, Bei Ling's Chinese passport was revoked, beginning his life in exile.
In 1993, while working at Harvard University, Bei Ling helped start a literary magazine in Boston called Tendency. Later the same year, having received a new Chinese passport, Bei Ling moved to Beijing, taking 50 copies of his magazine with him.
In 2000 while attempting to publish issue no.13, he was jailed for "illegally publishing" his journal in China. His detention drew an international outcry, with PEN International and writers Susan Sontag, Arthur Miller, Nadine Gordimer, Czeslaw Milosz, Seamus Heaney, Günter Grass, Kurt Vonnegut, and Homero Aridjis calling for his release and urging US Secretary of State Madeleine Albright to intervene. After 15 days in prison he was released and exiled to America.
In the spring of 2001, Bei Ling and other Chinese literary outcasts established the Independent Chinese PEN Center. Two years later, he founded the Tendency publishing house, in Taiwan, which publishes writing by exiled writers from around the world. Tendency Publishing Ltd. has published works by the late former Czech president, Válav Havel, the Nobel Literature Prize winners, Soyinka and Susan Sontag, and the German poet, Paul Celan.
It also publishes forbidden books that cover subjects that are strictly off-limits in Mainland China, such as Ai Weiwei, Liu Xiaobo, Tiananmen Square and many more.
Since 2013, Bei Ling has been chairman of the Independent Chinese PEN Center, organizing countless conferences and forums for publishers. In recent months he has been closely involved with the plight of the five Hong Kong publishers and booksellers [IPA note: who are also among the five Freedom to Publish Prize finalists], carrying out his own investigation into what happened, and writing extensive reportages on his findings.
Bei Ling is on the Executive Board of the International Center for Writing and Translation (ICWT), at the University of California, Irvine. He has been a research associate at Harvard's Fairbank Center for East Asian Research and was a Fellow at the New York Public Library's Center for Scholars and Writers (2002-2003). He was a winner of the PEN Center US West 2000 Freedom to Write Award. Since 1995, he has received the Hellman Hammett Award (1995 and 2001), the Kunstlerhaus Schloss Wiepersdorf Fellowship (1998), the German Academic Exchange Service Fellowship (DAAD, 1997) and Brown University's Critical Writing Program Fellowship (1990-1993).