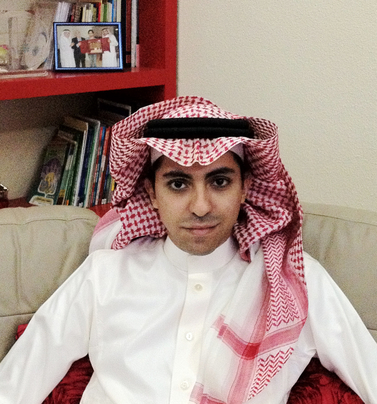 Raif Badawi was arrested in Jeddah in June 2012 and convicted a month later under the information technology law of 'founding a liberal website', 'adopting liberal thought' and 'insulting Islam'. He was initially sentenced to seven years, three months in prison and 600 lashes. The online forum, Liberal Saudi Network – created to facilitate political and social debate in Saudi Arabia – was ordered to be shut down by the judge. Badawi also stands accused of apostasy, which carries an automatic death sentence in Saudi Arabia, but no court has yet ruled on this change.
Following an appeal submitted in December 2013 by Badawi's lawyer, (who is also serving a 15-year prison sentence for 'antagonizing international organisations against the kingdom' and other trumped-up charges relating to his engagement with international human rights mechanisms) it was reported that the Court of Appeal had reversed the ruling and that the case be sent for review by another court.
However, any hope of release evaporated the following May when the sentence, rather than being dropped or reduced, was made even harsher: ten years in prison, 1,000 lashes, a million-riyal fine (EUR 233,000), plus a 10-year travel ban and 10-year ban from participating in visual, electronic and written media, both commencing upon his release.
The sentence was confirmed in September 2014 and it was ordered that the 1,000 lashes should be administered 50 at a time, in public, every week after Friday prayers. The first 50 lashes, administered outside a mosque in Jeddah on 9 January 2015, led to an international outcry. The following week, the authorities postponed the second flogging on medical grounds, after doctors said wounds from the previous lashing had not healed, and that he probably would not survive another 50 lashes. No further floggings have yet taken place, but no explanation has been given as to why.
Numerous worldwide human rights organisations and individuals – including Jimmy Wales and Peter Tatchell, Amnesty International, English PEN, Reporters Without Borders and Index on Censorship, as well as the publisher Little, Brown, which last month published his wife's memoir, have added their voices to the call for his immediate release.
Badawi has received 15 prizes in recognition of his courage and his desperate plight. His wife, Ensaf Haidar, runs the Raif Badawi Foundation in exile, in Canada. The foundation spearheads the tireless campaign to have Raif released from prison and reunited with Ensaf and their three children.