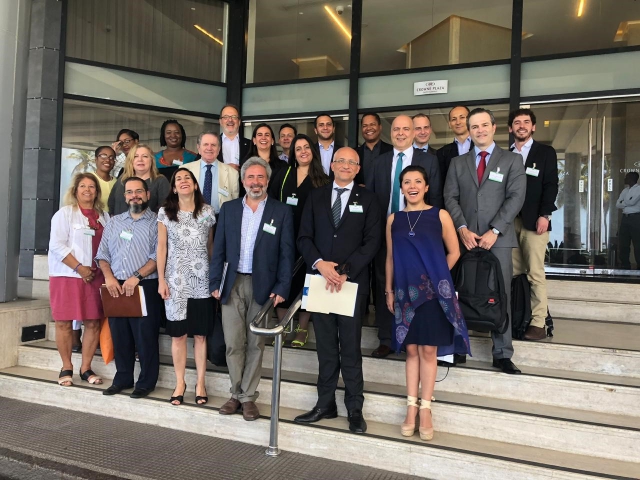 This year, WIPO has organized a series of three seminars in Singapore, Nairobi and finally Santo Domingo, hosting discussions by Member States of the current exceptions and limitations agenda of the WIPO Standing Committee on Copyright and Related Rights (SCCR). IPA brought together local publishers as observers and active participants to all three seminars.
We coordinated with other rightsholder organisations including the International Federation of Reproduction Rights Organisations (IFRRO) and the International Authors Forum (IAF) and on 4-5 July representatives from the region came from Argentina, Brazil, Colombia, Jamaica, Mexico, Panama and Peru to the Caribbean island of Santo Domingo.
The IPA/rightsholder team argued strongly that the international treaty being sought by some Member States that would broaden exceptions and limitations to copyright in the field of education would seriously undermine publishers' business models. We pointed out that such a global, one-size-fits-all treaty is unnecessary because every country can already enact its own, local exceptions and limitations which would be much more effective as they would be tailored to local conditions.
The two-day seminar followed the usual pattern with introductory briefings from researchers who regularly report to SCCR meetings in Geneva followed by delegates from Members States being split into three sub-regional groups — in this case: one English-speaking and two other Spanish-speaking groups.
In the end, none of these groups called for an international treaty; a substantial number of countries preferring to focus on legislative solutions at the national level. This positive outcome reflected well on the constructive way that publishers and our rightsholder colleagues participated in the seminar, consistently explaining how our sector responds to market needs through widely available licensing and commercial solutions.
Now that the regional seminar program has played out, the next step in the WIPO program is a summary conference to be held in Geneva and scheduled for 18-19 October. This timing is difficult as many of us will still be at the Frankfurt Book Fair especially on the Friday. If any of our members are available to be in Geneva on either of those days, please contact the IPA Secretariat. We would very much appreciate your support.