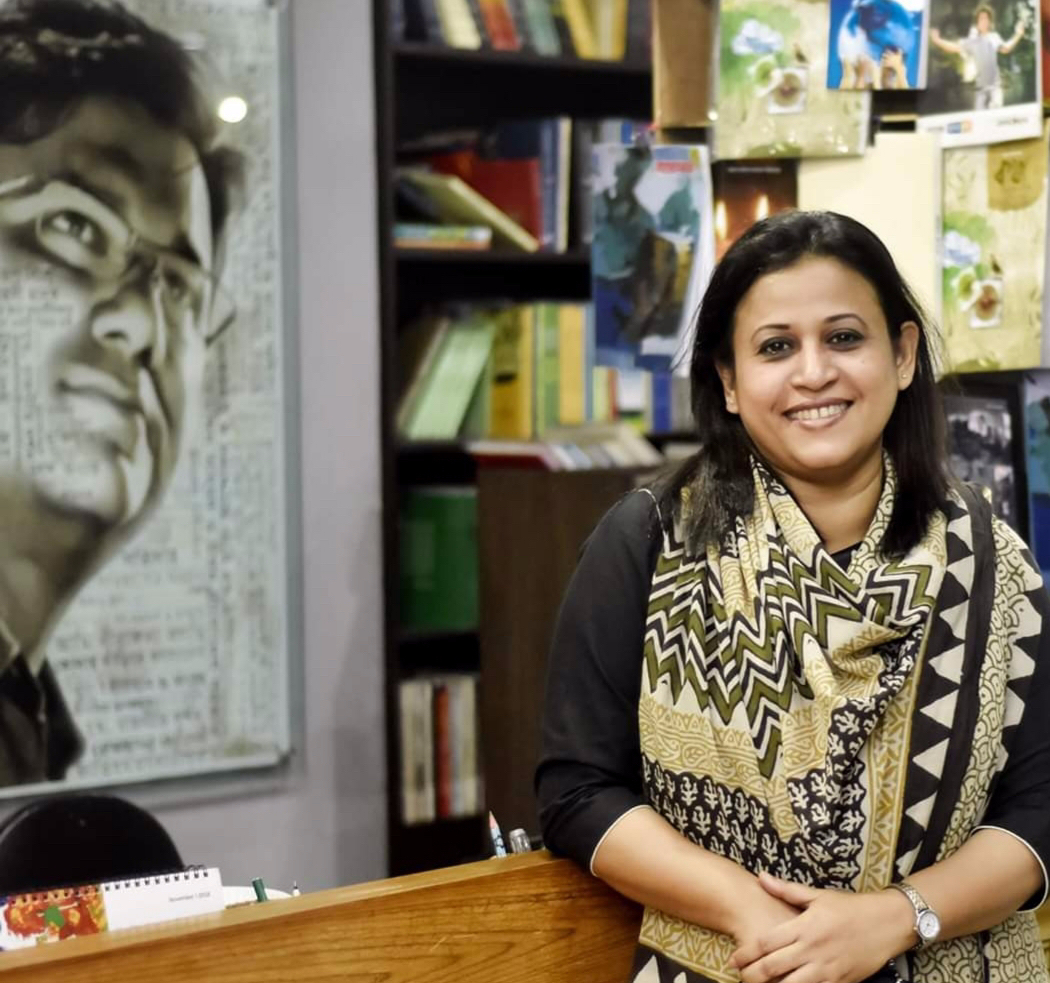 Kristenn Einarsson, Chair of the IPA's Freedom to Publish Committee said: The COVID-19 Pandemic is a huge challenge for publishers and bookshops around the world but Dipan's brave work as a publisher and Razia's commitment to his legacy deserve our support. No-one has faced justice for Dipan's death. To lose this publisher and this bookshop in this country would be a victory for those who seek to deprive all of us of our freedom of expression through intimidation.
As Ms Joly says, 'Dipanpur is not just a publishing house or bookshop, we also arrange worshops or training sessions for children on creative writings, drawing, singing, and debates. We have an auditorium with acultural programme where we hold book launches and workshops. We have a spacious lounge where people can sit book reading and can have a quality time with friends and family. My husband, Dipan, is everywhere – the cafe is Dipanjoly, the children's corner is Dipantor, the auditorium is Dipantola – all positive words in theBangla language.
Faisal Arefin Dipan was murdered, aged 43, by religious fundamentalists who rejected the secular works he published. He posthumously received the Prix Voltaire Special Award in 2018. Nine publishers or bloggers have reportedly been murdered in Bangladesh since 2013.
I also run the publishing house Dipan started in 1992, named Jagriti. We published more than 50 new books for this year's book fair and reprinted many of our old renowned books. But the Corona situation has affected us badly.
Publishing books is the only way of protesting Dipan's murder in a region where freedom of speech is severely challenged a fundamentalism has seen many publishers and authors hurt or killed. Without financial support, I don't see how I can continue this publishing house.
Fellow Bangladeshi publisher, Ahmedur Rashid Chowdhury, also known as Tutul who survived a similar attack at the same time and now lives in refuge in Norway, said: It is a good initiative in this crucial time. In Bangladesh, the government is spending lots of money for many unproductive projects, but they do not give any effective support to the book publishing sector. In the fight against the religious fundamentalism, I hope this support will inspire Diponpur and Razia Rahman Joly.
You can watch the speech of Razia Rahman Joly, receiving the Prix Voltaire Special Award on behalf of her husband in February 2018 here.
Donations, of any amount can be made to the Jagriti Publishing House through:
Recipient: Jagriti Prokashony
Address: 'Jagriti', Dipanpur, 230 New Elephant Road, Dhaka, 1205.
City: Dhaka
Account Number: 111-0210000725
Bank: Jamuna Bank
Branch: Elephant Road Branch
SWIFT: JAMUBDDHTFP
You may wish to use online platforms like Azimo or TransferWise.