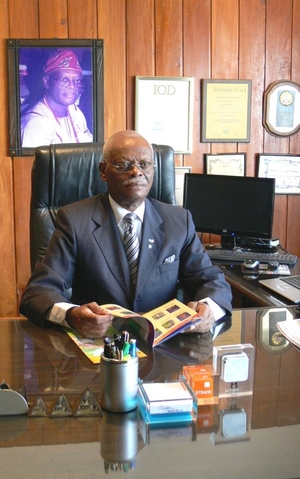 IPA: How did you get started in publishing?
It was after I returned from the United Kingdom as a qualified pharmacist. I was working in a Lagos department store, setting up their pharmacy department. I realised that there was no reference book for pharmaceutical products available in Nigeria, so I decided to create an index of pharmaceutical items, detailing the name of the product, its active constituents and dosage forms, its current price, the manufacturer of the product and agents in Nigeria.
I compiled the index, called MEDIPHARM, from available information from the pharmaceutical companies. It was first published in January 1969 as a free book distributed to doctors, pharmacists, and allied professionals. Revenues depended on advertisements from pharmaceutical companies and medical device suppliers.
MEDIPHARM was an instant success, but its publication threw up a lot of challenges due to Nigeria's weak infrastructure, notably printing facilities to handle quarterly publication (to take account of new products coming to the market and price instability).
For four years I visited the printers twice a day to supervise the printing of MEDIPHARM, because of the accuracy demanded by the technical nature of the book and the audience. Not many people in the medical world gave the book any chance of survival due to the infrastructural deficiencies in the system in Nigeria, then and even now.
That was the need I was trying to meet and the problems I initially wanted to solve.
For an inexplicable reason, although qualified as a pharmacist and practicing the profession as a retail pharmacist, I had a passion for children's books. Consequently when the opportunity arose I published a children's story book, "Pussy Merry's birthday party" in 1971. This was the beginning of my foray into children's book publishing.
Because of the increasing difficulty of meeting deadlines with my printers I decided to build a printing press in 1972 to continue the printing of MEDIPHARM and offer printing services to my professional colleagues in the pharmaceutical industries who needed pharmaceutical promotional materials.
Now in control of our own destinies with our own printing press, we went fully into children book publishing around 1987.
IPA: How is the climate for piracy and copyright infringement in Nigeria?
Piracy is devastating the publishing industry in Nigeria. The whole intellectual property space here is dominated by pervasive piracy and has been for a very long time. As soon as I ventured into book publishing, especially school textbook publishing, our books were being pirated. Multinational publishers like MacMillan, Longman, Evans, Heinemann's books are heavily pirated. Today, piracy has taken a turn for the worse; pirates can go to China, India or Dubai to import near-perfect pirated copies of the original, which fool customers who cannot tell the difference between the original and pirated copies.
In 1990, we published two sets of books VERBAL AND QUANTITATIVE REASONING. These books have been very successful and have been heavily pirated, as well as plagiarized, since they were published.
Nigeria's national book policy envisages that each primary school child should have at least five books. That translates to a huge volume: 125 million books for 25 million primary school children; which does not include another five million children in private schools. About 8 million children are registered in secondary schools, there are 129 universities and 69 technical colleges and colleges of education. Simply put, there are not enough local publishers and infrastructure to cope with such a huge demand for books.
Laws exist to prosecute copyright infringement, but how effective can they be in a vast country of 170 million people where law enforcement agencies and the courts take an interminable time in concluding cases? Court sentences are typically a 5000 Naira ($25) fine. Nigeria's Copyright Commission, the agency saddled with enforcing copyright infringement, is poorly funded, making it difficult for the agency to function properly.
IPA: Are there any prospects that the situation will improve?
It is not all doom and gloom. The Nigerian Government is beginning to show the political will to deal with the problems because of the growth of the entertainment industry where copyright infringement is most visible and where you have high-profile people protesting about it. There is a new levy on all imported printing equipment, including photocopying and digital equipment. This will fund the Copyright Commission and should make it more effective.
Our new Government has made the fight against corruption a major priority. I hope this will translate into improved enforcement of copyright infringement.
The Printers Organisation now has a Charter which regulates printing in Nigeria, and to the best of my knowledge some international printing organisations are contemplating investing in Nigeria. Local printers are beginning to agitate for Government to regulate book printing in Nigeria. Improvements in infrastructure, especially electricity, are coming.
International publishers should take advantage of our liberal laws on foreign investment, to establish in Nigeria. Pearson and Cambridge Press have already set up operations here.