Michiel Kolman: You are the author of two kids books, Early One Morning and Bedtime, Not Playtime!, illustrated by Elina Braslina. What makes these books special and why did you decide to write them?
Lawrence Schimel: While there are other books for children that feature LGBT lives, Elina and I felt there was still a need for books that weren't about overcoming homophobia or being different, that there should be FUN books that feature same-sex families, too. So that was our goal in creating these two titles, which I originally wrote in Spanish, and which are now published in 34 editions in 27 languages, so I guess that many others agreed that there is a real need for this kind of joyful representation.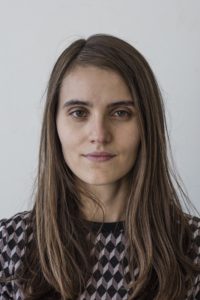 MK: How were the books received in our industry (by the readers, publisher, booksellers, industry media, etc.)?
LS: Children's books and especially board books are rarely covered by the media, I'm afraid, although when the books were first published in 2018 (in Spanish, Catalan, Latvian, Croatian, Czech and Flemish) there were a number of positive reviews in both mainstream and LGBT publications in all the countries, with a few negative articles appearing in Croatia and Latvia as well.
The books later received a lot of media attention because of the backlash against them this year when they were published in Hungary and Russia. And while a lot of the industry media and mainstream media has focused on the homophobic attacks against the books by a few governments, I try to also put emphasis on the other side of the story, where so many people, institutions, and publishers have worked together to make it possible to bring these stories to readers in so many different languages and countries. This has been going on since before the governmental attacks, and there have also been new positive reactions to the attacks like a recent solidarity campaign by an NGO in Stuttgart, Germany which donated a copy in Polish for every copy bought in German, to be given away free in the "LGBT Free Zones" in Poland by an NGO in their sister city of Łódź.
MK: How were the books received in the political arena? I understand that they were mentioned in the Guardian, the Washington Post, Newsweek, Der Spiegel, Le Figaro, etc. – why was that?
LS: The first time the books became international news was when the Hungarian government fined a bookshop 250,000 forints, using a consumer protection law, claiming that the bookstore, part of the Lira Könyv chain, was defrauding customers by not warning them that the book (both books were published in a single volume in Hungary) contained families that were different from traditional ones. This attack came as a complete surprise, even if we were nervously waiting to see what would happen when a newly passed law in Hungary went into effect, outlawing any depictions of LGBT life for children under 18 or where children under 18 might see them. But the fine against the bookstore happened the day before the new law went into effect, a kind of multi-pronged attack by the government against the book for celebrating same-sex families.
Since then, the Hungarian government has doubled down on its position and refined the law to now make it illegal to sell the book within 200 meters of a school or a church, which makes people associate our fun family stories with drugs or other illegal substances. The book is also forbidden to be displayed in store windows, it must be sold in shrinkwrapping so it can't be opened and looked at, it must have a warning label that it contains "non traditional families" and various other prohibitions.
As a result of all of this, many newspapers covered the story of the Hungarian government's homophobic attacks on the freedom to publish and to sell books, which followed on their continued harassment of an early Hungarian book, Meseország mindenkié (Fairyland Belongs to Everyone), an anthology of fairy tales with diverse characters, including Roma, LGBT, people with disabilities, etc.
And our books were in the news again, when they were published by the Russian LGBT Network, as part of a campaign to overturn the LGBT Propaganda laws in Russia. They had to be published with an 18+ warning label on them, even though they are board books meant to be read by the youngest readers. (Here is a link to the Guardian story for anyone who wants more details: https://www.theguardian.com/books/2021/aug/17/picture-book-russia-lgbt-gay-propaganda-law-lawrence-schimel )
Unfortunately, on November 8, 2021, the Russian Ministry of Justice declared the NGO to now be "an unregistered social movement fulfilling the function of foreign agents" which hampers them in all of their activities to help protect & support the lives of LGBT people across Russia.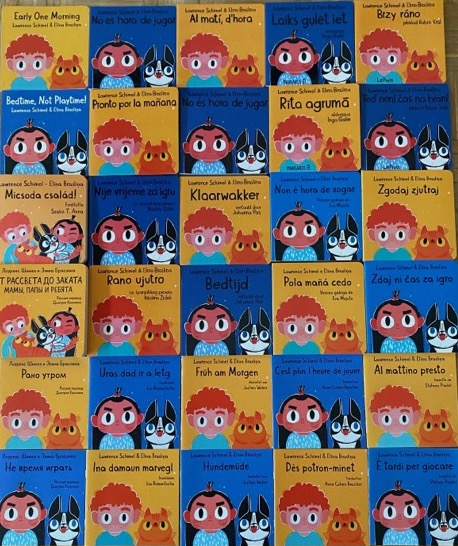 MK: What was the impact on you personally?
LS: It has been rather exhausting, really–even the nice parts like coordinating the publication of the books in so many different languages and countries.
But there have also been so many negative reactions on social media. Fortunately, most of the worst stuff has been in languages or even alphabets I don't speak, so I often need to go looking for it and use online translation tools to see what it says. Things like officials from the Communist Party denouncing me on Channel 1 on Russian TV for committing "fifth column attacks" against Russia, or people posting in many forums that Elina (the artist), Dmitry (the Russian translator) and I should be shot for having published such filth.
But I do also get attacked almost every single day on social media (even now, months later) so it is not only when I am prepared to read such hatefulness directed at me like when I go looking for it.
And it is exhausting to have to deal with all this hate, and to have to protect not only myself but friends and family, since it has sometimes spilled over to them as well, even in other countries.
My creative attention has been undermined by fighting all of this, even while I am more determined than ever to keep creating stories that celebrate the diverse and plural world we live in, and which children live in, to not give in to these attempts to silence or erase our stories.
MK: After the political backlash did you receive any support from the community?
LS: There has been tremendous support for the books, and for us as its creators, from so many individuals and institutions!
I was especially humbled and awed that so many people in Hungary posted pictures of their children (or sometimes their cats or dogs) reading the book on social media, with hashtags like #civildisobedience
So many people decided that they didn't want their children to grow up in a homophobic society and have supported the book as a result. That is a reason many other publishers have asked to publish the books now in their countries or languages as well, which is a nice positive outcome to the backlash. But it is also part of the groundswell of support the project has had from the beginning, of all the people who were working, alone or together, to help bring these stories with joyful lgbt representation to young readers in their countries.
And many institutions, including the IPA as well as organizations like the Society of Authors in the UK or CEATL (European Council of Literary Translators' Associations), issued statements condemning this censorship.
MK: As you know the IPA fights against censorship and also put Diversity and Inclusion on the agenda. How do you view what happened to you and your books in light of these IPA values and principles?
LS: I think that what happened with my books underscores the importance of books that reflect the world in all its diversity, they are so important that governments are threatened by these titles and try to ban or outlaw their publication or impose levies on bookstores for selling them. Which just shows the need for stories like these and many others as well to be published.
I think member publishers would do well to analyze what they are publishing–and what stories, authors, illustrators, translators they are NOT publishing. It might be because of their ideology, in which case that is their choice. But very often, publishers are failing to publish many diverse voices through ignorance or inattention or unconscious bias. And that is a kind of suppression or censorship that we should fight against, on moral grounds but also because it makes good business sense–as the success of these books show.
My two board books feature same sex families, yes, but they are about going to bed and waking up in the morning, something that all children do. Reading these books won't turn a child gay or lesbian, but it will hopefully help them to not grow up to be homophobic, and to have a better understanding of the world we live in.
We as a society normalize the absences in our cultural production. It's not just important for kids (and adults) to be able to see themselves reflected in books, but for others to see that their stories are "worth" being told, and published, as well. "Diversity" does not mean publishing books for only a few, to educate the supposed mainstream or dominant population about a community that is "different" from them, but of integrating all of us into all of our books, and promoting those books as books that represent our world.
That is the only way to truly publish in an inclusive way.
Lawrence Schimel also joined IPA for a Freedom to Publish Masterclass during Frankfurt Book Fair.