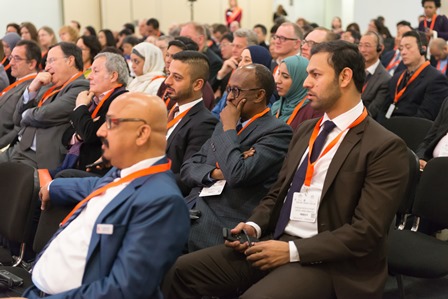 Publishing Now: Creativity, Commerce
Sunday 10 April was a day of debate about the big issues facing publishers, such as the changing global copyright landscape, challenges and opportunities of digital and the deteriorating state of freedom to publish in many parts of the world.
See a gallery of photos here
In this video, a number of global publishing stakeholders give their take on the priorities and challenges of the modern publishing industry:
Presentations and speeches from the Congress can be viewed here:
Digital Revolution in Book Publishing: the best is yet to come
Keynote by Arnaud Nourry, CEO Hachette Livre
From The emerging geographical super powers of the publishing world:
Rok Kvaternik, CEO, Ernst Klett Publishers, Eastern Europe & Turkey Region
Roberto Banchik Rothschild, Director General, Mexico and Central America, Penguin Random House, Grupo Editorial
Fei Chen Lee, Head, Times Publishing Group, Singapore
From Global trends in copyright: fair use and beyond
Jon Baumgarten, retired partner of the Proskauer law firm and former GC of the US Copyright Office
From Creating the Readers of the Future:
Jonathan Stolper, SVP, Global MD, Neilsen Book
Hermione Ireland, co-founder of Byte Consultancy and UK Trustee for Worldreader
From Quantum – publishing and so much more
Jo Henry – Quanta? Global Publishing Market
David Ingham & Phil Harper – Virtual Reality: The Full Experience
Adrian Driscoll – Developing an App Publishing Strategy:How Publishers & Developers can partner for Publishing Success
Case Study: Mog Christmas Campaign – Partnering for Success
Clay Stobaugh – Transforming your Marketing Organisation in the Digital Age: A Wiley Approach
IPA Prix Voltaire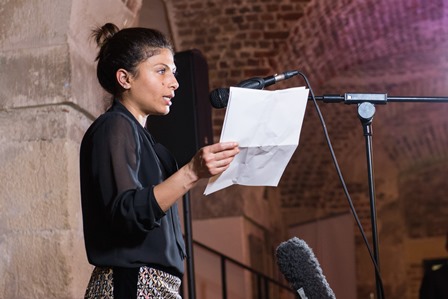 The IPA renamed the Freedom to Publish Prize the IPA Prix Voltaire, in tribute to French philosopher and writer François-Marie Arouet (penname 'Voltaire'), a pioneer in tolerance and free expression thinking. In addition, from 1755 to 1759 Voltaire lived in Geneva, Switzerland, home of the IPA.
The first IPA Prix Voltaire went to the jailed founder of a secularist Saudi website, Raif Badawi, in recognition of the courage he has shown to express his ideas, and those of other people, in writing. Raif, 32, started the now-closed Free Saudi Liberals forum to enable political and religious debate in a state that is notoriously intolerant of free expression. He is currently four years into a 10-year prison term and has received 50 of 1,000 lashes, for hosting online commentary deemed blasphemous.
Raif's wife, Ensaf Haidar, travelled from Quebec, Canada – where she and their three children secured political asylum in 2013 – to collect the award on her husband's behalf. In a poignant acceptance speech, delivered in Arabic, Ensaf said Raif had become 'a symbol for all in the Middle East and North Africa who wish to express their opinions peacefully and exercise their rights to freedom of thought, religion, and consciousness'.
Read the press release and view photos from the Gala Dinner, at The Café in the Crypt, St Martin in the Fields, London.
Extraordinary General Assembly
On 11 April, the IPA held an Extraordinary General Assembly (EGA) where members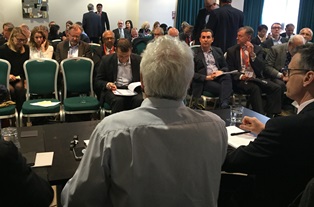 adopted several governance amendments that optimize the democratic mechanisms underpinning the IPA's decision-making.
Four IPA working groups had been reviewing the IPA statutes and committee guidelines since December 2015 to make sure they would continue to serve as an appropriate framework for the modern IPA. Their proposals to clarify the IPA statutes and governance of the Membership, Copyright and Freedom to Publish committees, were overwhelmingly adopted by the IPA membership.
Click here to see the Revised IPA Statutes and Guidelines for the Copyright Committee, Membership Committee and Freedom to Publish Committee.
What Works? Successful Education Policies, Resources and Technologies
Attendance at the fourth one-day What Works? event was the highest yet, attesting to its value to the educational publishing sector as a networking and learning experience. The programme featured a varied international roster of speakers, with experts from the US, Mexico and Brazil in the west, and China in the east.
Many of the presentations can be viewed here:
Francesco Avvisati, OECD
Laurie Forcier, Pearson
Michael Ross, Encyclopaedia Britannica
Prof. Frederic Litto, Universidade de Sao Paolo
Slides and speech by Li Pengyi, President of China Educational Publishing & Media Group
José Picardo, Surbiton High School
Kathryn Greenhalgh, Fortismere School
Job Vos, Kennisnet Foundation
Alan Mackenzie, e-safety consultant
Charles Clark Memorial Lecture
On Wednesday 13 April, record numbers attended Professor Michael Fraser's provocatively titled What are Publishers For?, a lecture on the commercial and cultural challenges to publishers' business models, and how publishers might use copyright as the basis for their response.
Read the full transcript of Prof Fraser's lecture here and view photos here.